The Maine delegation to the 2018 National Junior Classical League Convention numbered 21 this year:  16 high school students, 3 teachers who are local JCL sponsors and one retired teacher. The convention took place on the campus of Miami University in Oxford, Ohio from July 22 – July 29.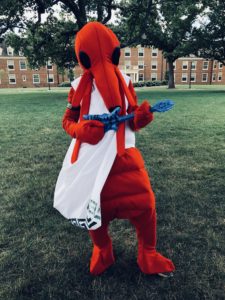 Several awards were earned during the week.  The student delegation placed first in the spirit competition in the small state category.  Hampden Academy placed first in the Publicity Contest in the category of Best Portfolio.
Students earned awards in many areas including academic tests, creative arts, graphic arts, sports and Certamen, which is a quiz game over Roman life and culture.  The following places were awarded to Maine students:
Greely High School 's Emma Raven placed 2nd in shot put, and Bryan Taylor placed 7th in the 200 meter run.
From Hampden Academy, Andrew Hill received 1st place in Novice Open Certamen, 3rd place in Sight Latin Reading, and 8th place in Ancient Geography Level 1.  Molly Swalec earned 10th place in the Jewelry category of Graphic Arts.
Winthrop High School's Emma Dwelle and Vincent Scott earned 7th place in the couples division of the Costume Contest.  Portia Hardy placed 5th in the Essay contest. Clara Szakas earned 8th place for the 100 yard freestyle in the swimming competition.
Joey Tierney received 2nd place in the sculpture contest, 6th place in the small model category, and 10th place in Sight Latin Reading.
Other students attending the convention, all of whom helped achieve the 1st place spirit prize were:  Noah Burby and Audrie French of Hampden Academy, Ava Fox of Freeport High School, Marshall Ray and Cassandra Ward of Greely High School, and Samantha Neumann and Nathan St. Pierre of Winthrop High School.
The students were accompanied by teachers Ben Johnson (Hampden Academy), Seth Knowles (Greely High School, and a member of the JCL National Committee), Ross Shaler (Winthrop High School) and retired teacher Meg Cook.  Next year's convention will be held in July at North Dakota State University in Fargo from July 26-July 31, 2019.
Maine Junior Classical League events for the 2018-2019 school year include the Fall Convention on November 16 at Cony High School in Augusta, the Certamen Night on March 15 at Freeport High School, and the Spring Convention at Camp Mechuwana in Winthrop on May 22-23, 2019.